TITLE: Nimona

AUTHOR: Noelle Stevenson
ONE SENTENCE SUMMARY: Nimona, a shapeshifting sidekick, helps the villainous Blackheart in a faraway magical land.
RATING: 5/5
Oh boy! Where do I start with this besides telling you that I loved it!? The best part is that I went into this novel completely blind. Sure I've seen the cover on booktube and bookstagram but I never bothered to ask or even look up a synopsis. That might have been the best decision I ever made.
The writing is fantastic. It has great "flowibility" which is hard to find in graphic novels. It just has a great flow and easy to get into. AND it's surprisingly funny. There were so many moments between Nimona and Blackheart that made me laugh and love them even more.
At first sight I wasn't too thrilled by the artwork but it won me over by the end of the story. It felt weirdly nostalgic because it reminded me of the old nickelodeon cartoons. I'm not even sure why, but I could see this as a cartoon series. Or maybe that's just me wanting more of Nimona's story.
The world is very unique and unlike other fantasy / sci-fi worlds. Why? Because unlike other fantasy / sci-fi worlds where you're either in the future or in medieval times, Nimona takes the best of both worlds and combines them. It was weird to see people in medieval clothing watching TV, ordering pizza, or typing away on a computer, but it worked wonderfully. Although the world has these magical elements in it, science is also a big part of it. Within this world there is a science and logic to it, which is interesting to see.
I really loved the relationship between Nimona and Blackheart. I loved how their friendship develops from "Who is this kid who wants to be my evil sidekick?" to "Oh my god I love you, and I care about you, and you're my bestest friend." It's a BEAUTIFUL friendship and I wish we could see more of it.
The best part of the entire novel is the fight between good and evil, or the lack of it. Neither side is entirely good or entirely bad (although there's clearly a bad guy). We see this from the beginning when Blackheart refuses to kill anyone despite being the villain of the kingdom. I think the way Stevenson blurred the lines between hero and villain was interesting and really well done. I don't know how to explain it, but it's neither the anti-hero story or the good-guy-turned-bad story either. Just like the rest of the world, Stevenson's characters are an extraordinary mix of good and evil.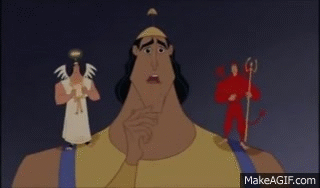 So if you please, go out and find this book and read it. You won't regret it. And if you do, then I'm sorry you were born without a heart.
Follow Me On: Instagram | Goodreads