Prompt

Any fictional career you'd want to have? Remember, T5W is always open to movies, tv, and video games as well.
Making this list was unusually hard for me because I mostly read contemporary fiction, and contemporary characters tend to have ordinary jobs. In making this list I wanted something more unusual and weird, so I looked at some of my favorite fantasy books and TV series.
1. Hogwarts Librarian (Harry Potter Series)
Pros: I will be surrounded by magical books all day long and be part of Hogwarts.
Cons: I might possibly be cursed by a book.
2. Member of the Volturi Coven (Twilight Saga)
Pros: It would mean that I would be a vampire and most likely have an awesome supernatural gift, like telepathy. Which also means I'd be eternally beautiful and live in Italy, what more could I ask for?
Cons: The fear of going against my favorite family of Vampires, the Cullens.
3. Khaleesi (Game of Thrones)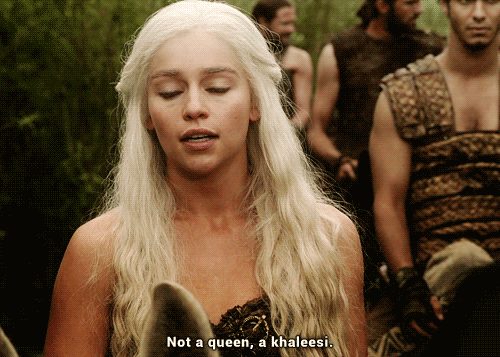 Pros: I can call myself a Khaleesi.
Cons: I am 90% at risk of dying because it's Game of Thrones.
4. Bending Master (Avatar: The Last Airbender & Legend of Korra)
Pros: I would be awesome at what I do and possibly get to teach the Avatar how to master that element.
Cons: In the case that either I or the avatar is a waterbender, I might have to live in the north or south poles of the Avatar World, and I dislike the freezing cold weather.
 5. Newt Scamander of the Avatar World
Pros: Ok, so I'm making this one up but in the (most likely) case that I'm not a bender in the avatar world, then I would go around the world searching and cataloguing the animals of the Avatar world. I could meet Turtle-Ducks, Platypus-Bears, and Cow-Hippos. Then I would name my book "Hybrid Animals and Where to Find Them".
Cons: I might die in the process because I am not a bender and I have no martial arts experience.
Make sure to follow the Top 5 Wednesday group on Goodreads!
Follow Me On: Instagram | Goodreads