TITLE: Gemina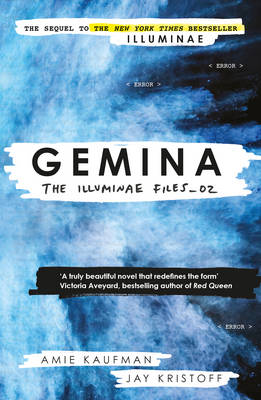 AUTHOR: Amie Kaufman & Jay Kristoff
SUMMARY: When Jump Station Heimdall gets attacked by BeiTech, it's up to Hanna Donnelly (the captain's daughter) and Nik Malikov (member of a notorious crime family) to put a stop to it and save their home.
GENRE: Young Adult | Action | Sci-Fi
RATING: 5/5
NOTE: This is the second book in the Illuminae files trilogy
I am so sorry it took me so long to write this review or to even post something this past week. It was the first week back to University after Spring Break among other things and I could not find the time or energy to write this review. Better late than never right?
The first thing that caught me off guard is that neither Kady, Ezra, or AIDEN are part of this installment. It's not a continuation of Kady's story, instead it's a continuation of BeiTech's evil plans from a new set of characters aboard the Jump Station Heimdall. I made the mistake of expecting them to show up and I was a bit disappointed when they didn't.
Although I missed them, I still fell in love with Hanna, Nik, and Ella just as much as I did with Kady and Ezra (and dare I say AIDEN). It was so awesome and fantastic to watch them work together in spite of their rocky relationships and navigate all the problems they were facing. The protagonists of the story are so complex and well developed and full of wonderful surprises.
The story itself is just as good as Illuminae! After reading the first installment I was sure that Gemina would have it's own surprises, and I wasn't wrong. In fact, I kept my eyes open for them but I failed. I completely missed it… twice… no three times. Not knowing where the story is going and where it's taking me let's me know that this is good storytelling. Which reminds me of  how amazing the writers can set up the story to keep you intrigued all the way through.
I'm still in love with the format of the story and how it tells the story. I think it's so cool and creative how they tell the story through video logs, chat transcripts, emails, and other electronic files.
Another thing that surprised me was that the entire story takes place within a couple of days (4 days maximum). There are so many things that happen in that short span of time that I kept forgetting that it had been days since the start of the story.
The only negative thing I have to say about Gemina is sort of a spoiler but even then, the rest of the book is so perfect, that I can forgive this small issue.
I am so sorry if this review looks like it's all over the place, but this book is so good that every time I think I'm done talking about it I remember something else. Whether I'm done or not, I urge you… no I beg you to pick up the Illuminae Files series!
Now all I have to do is wait for the next book…
Follow Me On: Instagram | Goodreads