TITLE: The Roanoke Girls 

AUTHOR: Amy Engel
QUICK SUMMARY: When Lane returns to Roanoke after her cousin (Allegra)  goes missing, she recalls the summer she spent there a decade ago after her mother committed suicide.
WARNING: Not suitable for children because of its strong language and explicit sex scenes.
GENRE: Fiction | Mystery | Gothic
RATING: 4/5
There is something about beautiful broken girls that I like reading about. Maybe it's because it reinforces the idea that no one is perfect no matter how well they hide it. I was expecting an emotional tale about a girl dealing with her mother's death, but the book is so much darker and twisted from anything that I could have imagined. The Roanoke family has too many secrets of their own, all of which left me dumbfounded and with my mouth open.
"Roanoke girls never last long around here. In the end, we either run or we die."
One of the huge big secrets that explains the entire story is revealed within the first few chapters of the story. I'm not sure how I feel about this either. On one hand, knowing so early gives you time to catch all the hints from the start rather than having to read it if it was revealed later on. But, then it also gives you enough time to piece everything together before anything else is revealed, it also robs you of the chance of figuring it out yourself. I kept imagining how different would the book be if it was left for the end. With that said, the Roanoke girls still have a secret that I wasn't expecting at all.
The story has its gothic undertones with the setting in the middle of nowhere, the grand house, the dysfunctional family and characters, and all the secrets. Even what happens to the girls and how generational it is gives it a gothic vibe that strongly reminds me of "The Dunwich Horror" by H. P. Lovecraft. The writing was beautiful and I enjoyed it thoroughly. Engel had a way of juxtaposing the beauty and pain of each of the girls that reminded me of All the Ugly and Wonderful Things by Bryn Greenwood.
The characters in the story are all damaged and reckless. They drink, have sex, curse, smoke and repeat.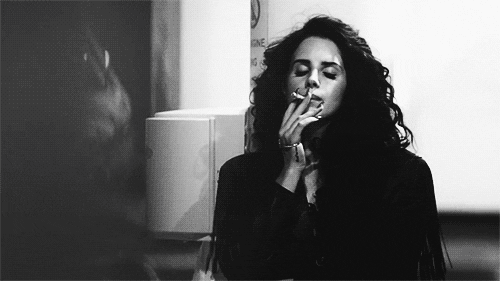 Clearly, it's not just the Roanoke girls who have their issues to sift through, other characters involved in their lives have their problems to sort out. Although we get a lot of insight in their lives, I would have liked more. Or maybe I just want a book about Cooper because I thought he had his own story to tell that was overshadowed by Allegra going missing.
I would love to say more about The Roanoke Girls but anything else would just be a spoiler. I will say that this book is not for the fainthearted, but if you're not then I recommend it.
P.S. Lane and Allegra's lives could be summed up in Lana Del Rey songs because of all the recklessness and drinking. Thus, all the gifs.
Follow Me On: Instagram | Goodreads