TITLE: The Cat King of Havana 

AUTHOR: Tom Crosshill
SUMMARY: In the hopes of impressing his crush, Rick Gutierrez takes Ana to Cuba to learn Salsa dancing, but he soon learns he's getting more than he bargained for.
GENRE: Young Adult | Contemporary
WARNING: Profanity in Spanish
RATING: 4/5
With the hype that's been surrounding Cuba lately, I was interested in the book primarily because I wanted to see how Cuba would be represented, because
it's not a topic of interest in the YA book world
I am Cuban. Born there and raised in Miami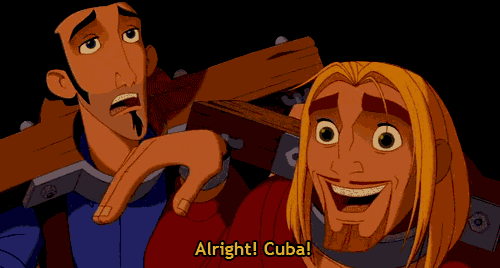 Anyway, I had some reservations seeing that the writer was anything but Cuban, but those reservations drifted away as I read the story. Crosshill did a phenomenal job of representing today's Cuba with all it's beauties and imperfections, but he captured the Cuba that I've gotten to know and I wasn't expecting that. He captured the unique details people can only get from spending time on the island. He doesn't forget to mention the diverse set of people living on the island or how mesmerizing El Malecon is, but doesn't forget  to mention the dilapidated buildings and how the people struggle to make ends meet. I really appreciated these small nuances that make Cuba. It is such a refreshing take on Cuba compared to the other shows and movies I've seen that are heavily influenced by the politics or the nostalgia for the old Cuba of the 60s.
The book isn't heavy on the history besides the general gist (if you want heavy Cuban history watch The Cuba Libre Story on Netflix) and it doesn't need it because it's a photograph of the island today. One of the things I loved was how Crosshill incorporated Cuban slang into the story. I can guarantee I have used most, if not all of the words he uses in this book. Also, the way the characters talk and act feel authentic. Having gone to Cuba, I know the Yolandas, Yosvanys, and Juanitas exist. (That's another thing, the names of the characters are right on point, Cubans love their Y names) It's clear, Crosshill took his time doing research and it worked out great.
There were a couple of things about Rick's stay in Cuba that bothered me a little because I'm not sure how common those things are, and maybe that's because it hasn't been my experience when I've visited. Other than that, I have nothing bad to say as to how Crosshill depicted Cuba because he did a fantastic job.
As for the story itself, well…
I thought it was funny and entertaining, but I'm not sure I would have picked this book up if it wasn't for the Cuba factor in it. The premise is rather ordinary, I'm not a fan of cat videos (sorry internet), and by the end of the book I was not a fan of Ana… at all. But if I'm honest, I'm so glad it didn't turn out to be a love story because it gave more room for us to see Cuba, and to see Rick's growth throughout the story.
There is so much to say… Just know that if you want to experience Cuba as it is today then read this book because it's the closest you will get without having to visit.
Follow Me On: Instagram | Goodreads