PROMPT

Ask and you may receive. By request, a topic all about your favorite hate to love romances!
Here are some complicated love stories that as much as I want to hate them, I can't. Most of them are problematic and not entirely healthy relationships, but I still secretly love them.
Cersei and Jaime Lannister (Game of Thrones)
Why I Hate It: As far as problematic relationship goes, this HAS to be VERY high on the list. It is all wrong and all over the place from the beginning. She's married and having an affair with her own brother. #Eww #Gross #Twincest #SoWrong Not only that, but they're also abusive towards each other.
Why I Love It: In a weird creepy extremely dysfunctional way, they work together a lot better than they do with other people. There's also the even weirder part that I do believe that they love each other. If it wasn't for the incest issue, there would almost be nothing wrong with their relationship.
Callie and Brandon (The Fosters)
Why I Hate It: Callie and Brandon are foster siblings so unlike the Twilight series, it is frowned upon for foster siblings to be in romantic relationships with each other. I also think that Callie needs a family so much more than a boyfriend. I think she needs family love instead of romantic love. Other than that I have no other problems with this pair.
Why I Love It: How can you watch this show and not ship it? The chemistry is there even when it's not. They are magnets to each other, and I will always secretly hope they end up together although they probably shouldn't.
Michael and Jane (Jane the Virgin)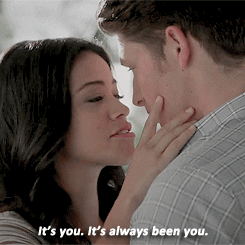 Why I Hate It: The only reason why I hate this couple is because I also ship Jane and Rafael.
Why I Love It: Michael is so incredibly sweet and understanding with Jane's crazy life. Who else could stay with a pregnant virgin whose baby daddy was someone else? For that alone, I applaud Michael. Not to mention he has the better relationship with Rogelio #Bromance
Anna and Etienne (Anna and the French Kissby Stephanie Perkins)
Why I Hate It: Let's not forget that Etienne was in a relationship with someone else for the majority of the book. That's wrong. Other than that
Why I Love It: Like most of these stories, I'm not sure why I love these relationships but I do. In this case I like how they grow closer together, and their obvious chemistry, and the tension. I also find them cute and funny together.
Miles and Tate (Ugly Love by Colleen Hoover)
Why I Hate It: I absolutely hate the way Miles treats Tate, and I hate how Tate lets him treat her. That's something I've always disliked about the book even when I first read it. They're not violent but it's emotional abuse and it's not right. So why do I LOVE this book?
Why I Love It: This is going to sound horrible, but it's understandable. Their relationship is destined to fail because of his trauma and because friends with benefit deals never work. What saves it is the fact that Miles stops treating her that way once he figures out his own problems. I also love that this story is about learning to love when it seems impossible.
Follow Me On: Instagram | Goodreads