I am going to give myself a pat on the back this week for almost completing all the challenges this week for booktube-a-thon 2017.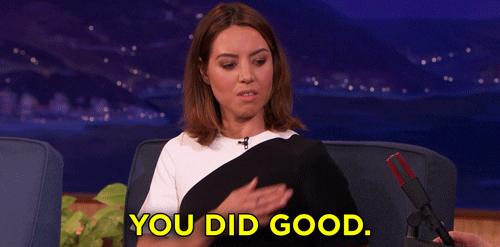 Reading Challenges
Out of the 7 challenges announced at the beginning of the readathon I finished 5 of them. I would call that an accomplishment and I'm very proud of that.
Read a book with a person on the cover.
This was the easiest challenge to do because all of the books I had in my TBR had people on the cover. ALL OF THEM. In other words, I only read books with people on the cover this week.
Read a hyped book.
For this challenge I FINALLY read the very hyped A Court of Thorns and Roses by Sarah J. Maas. I'm happy I finally read it and I can see why so many people loved it so much. I, myself, really liked it and immediately bought the next two books in the series and I hope to read them this upcoming week.
I should also mention, I went to sleep 4 nights in a row to read this. Yup, this readathon was not good for my beauty sleep.
Finish a book in one day.
I had 4 graphic novels in my TBR (and I don't care if that's cheating) so this one was also easy to complete. I read both Fables: Snow White (Volume 19) and Paper Girls (Volume 1) in one day.
Read about a character that is very different from you.
Initially, I was going to read Kindred by Octavia E. Butler for this challenge, because it's about black woman traveling back in time when slavery still existed, but I never got around to reading it. I did read about Feyre who is a hunter and is forced to live with a fairie nobleman, and I'm pretty sure I've never been a hunter or lived with a faerie. I've also never been a paper girl from 1980s like the characters from Paper Girls, or a princess like Snow White in Fables. So, I think I pretty much covered this challenge.
Finish a book completely outdoors.
I didn't have a chance to do this challenge because the heat has been unbearable lately in South Florida. However, I did read 50% Dreamology by Lucy Keating outside.
Read a book you bought because of the cover.
For this challenge, I read Dreamology by Lucy Keating. I should be ashamed for buying the book solely for the cover without really paying attention to the synopsis, but that's exactly what I did. Thankfully, I really enjoyed this novel and I'm glad I read it finally. If you need a happy book for a mourning period, I recommend this book.
Read seven books.
Nope, I didn't finish this one and I didn't expect to. But, I am proud of reading 5 books in one week.
The Books I Read
Photo Challenges
Each day of the readathon there was a photo challenge announced at midnight on Bookstagram aka Instagram. I was able to complete all except for a cosplay challenge. I post at least one picture a day on Instagram @readingturtleduck
This slideshow requires JavaScript.
Follow Me On: Instagram | Goodreads