PROMPT

–We've talked about series that went downhill, and series that are worth it, but which series were best in the middle?
Making this list was hard for me because I don't normally read that many series and when I do I usually end up liking the first part rather than the sequels. Anyway, here is my list of sequels that are better than the original.
Book 2: Earth from Avatar: The Last Airbender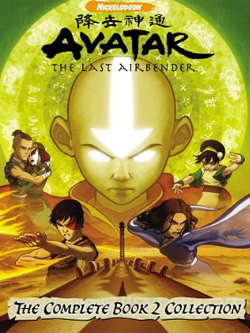 Most people will disagree with me when I say that the second season of ATLA is the best season, but I really do think it is. The first season was mostly just a setup for the next two seasons by introducing the world, the characters, and the story. However, thanks this middle season we get some of my favorite characters like Toph and Azula, there's further character development like Zuko's case, and it comes together seamlessly and full circle from the first episode to the last episode.
Catching Fire by Suzanne Collins
Hunger Games was already intense with its premise of teens killing teens as a sport, but Catching Fire was so much worse with the politics and the aftermath of the games. I also liked how Collins was able to bring back the Hunger Games as the Quarter Quell.
A Court of Mist and Fury by Sarah J. Maas
Originally, this book wasn't on the list because I had not read it yet, but after reading it I quickly realized I had to put it on this list. Looking back, I liked A Court of Thorns and Roses but something about it didn't make me love the book or the series, but ACOMAF changed that for me completely! It was so good, if not better, than the first book. Now I'm happily reading A Court of Wings and Ruin, the third book of the series.
Gemina by Amie Kauffman & Jay Kristoff
I'm not saying Gemina is better than Illuminae. Both these books are so good I refuse to pick one over the other, but that's exactly why I'm putting it on this list. Gemina is just as good as Illuminae and that's hard thing to find. The story is still incredible, the plot twists are amazing, the characters are (almost) perfect. Now, I can't wait for the third and last installment of this trilogy.
Losing Hope by Colleen Hoover
I'm not sure this counts as a sequel because it's the same exact story but from a different perspective, but I'm including it anyway. The reason I liked this sequel better than the original is because Holder's story comes together and full circle better than Sky's version. With Sky's story, I didn't know where it was going or how she was going to grow as a person, but in Holder's perspective his problems are clearer and it's easier to see what obstacles he has to overcome.
Follow Me On: Instagram | Goodreads