This hard was as hard as it was easy to make. Easy because it wasn't hard to pick out my top 10 books of the year. Hard, because as much as I tried putting them in order from love and LOVED. In the end I came up with this list, in this order, and I'm still not quite sure if it's right.
I don't have reviews for all these books because I hit a bit of a blogging slump towards the end of the year.
10) The Hate U Give by Angie Thomas
I was very intimidated by this book because of all the hype it's been getting since day one, but for once, the hype didn't disappoint me. It's about the Black Lives Matter movement written by and for people who are most affected by police brutality, black youth. It's not an easy topic to discuss and the book has very powerful moments throughout, but what I really liked is that this is a small glimpse of what contemporary black culture is like in the U.S. Key words; contemporary and small glimpse. I have read black authors before, but they were never about or from this century, which is why this book is so important and should be added to at least summer school reading lists across the country. I also say "small glimpse" because I doubt, I will ever fully comprehend what it's like to grow up black in the U.S., but I can try my best to understand, and I do believe reading Thomas' book is one step in the right direction.  
Also, the movie was fantastic, although it understandably loses some of that levity from the book.
9) Bad Feminist by Roxane Gay
I listened to the audiobook and it was great. What I love about this book and Gay's essays, is that she shows us that there is no right way to be a feminist. People are flawed and therefore feminism (and any movement really) is also flawed. However, it's better to be a feminist than nothing at all. I liked how approachable and thought provoking it is. Six months later, I'm still thinking of how popular music talks about women and my guilt over enjoying that music. Or the way we talk about privilege and instead of rejecting it we should just accept it and go on from there. Or the way today's culture warns us about every possible thing. You don't have to agree with everything she says or even follow her suggestions, but it's a worthwhile read if you are a feminist or just need more information. It's not perfect, but the book is called Bad Feminist not "Good Feminist".  
8) Born a Crime by Trevor Noah
I'm already in love with Trevor Noah, so I wasn't surprised by how much I enjoyed his audiobook. Before listening to it, I had a vague idea of what it would be about – him living in South Africa during apartheid. What I didn't expect was how funny, intelligent, informative, and insightful it would be. While I learned a lot about Noah's personal upbringing, I learned so much more about apartheid and South Africa as a whole. I learned about different social classes, their food, their culture and customs, and several different laws that affected its people. Overall great read and would read again… and buy the book. 
If you decide reading this, I highly recommend listening to the audiobook.
7) The Best We Could Do by Thi Bui
 
I really loved this graphic memoir, it might even be in my top favorite graphic novels/memoir of all time.  The main reason why I liked this book is because Vietnam's history is discussed by a Vietnamese author, it's about what her family went through, what they lost, how they survived, and how it's shaped the author's life, instead of how it affected Americans. I know it sounds elemental and basic, but this might be the first time I see depictions of the Vietnam war solely affecting the Vietnamese people instead of also American soldiers and their families' losses.  
I don't want to say that those American losses are not important, because they are, but whenever the Vietnam war is discussed I've only seen it through an American standpoint, instead of the people who were most directly affected by it. 
6) Like Water for Chocolate by Laura Esquivel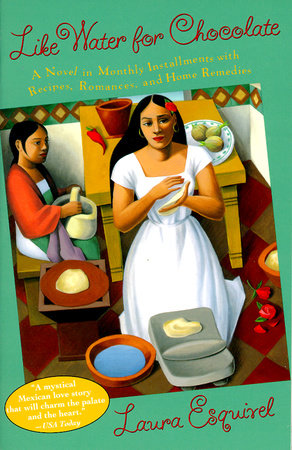 I can't quite explain what it is about this book that I liked so much. Maybe it's the ridiculous magical realism that heightens every emotion and event. Maybe it's this dysfunctional matriarchal family that, each with a different life, and each with some secret to keep, sounds awful but somehow it all comes together. Maybe it's all the delicious cooking and recipes. Or maybe it's Tita's empowering journey and learning to make choices on her own. Whatever the reason is, it's making it on this list. 
5) Wild Beauty by Anna Marie McLemore
Wild Beauty showed me what YA could be. Mclemore's prose and magical realism and storytelling is lovely. It's about what happens when you're told you're not allowed to love and how deep that can affect the way someone learns (or doesn't) love. I think that a lot of times when we read and watch romance, we see this unrestrained kind of love that the characters must learn how to keep in themselves or dial down, but in Wild Beauty it's the opposite, Estrella loves in safe and discreet ways, and that leaves her without romantic love. Which is what I love about this book, I'm tired of seeing that passionate and destructive love, where are the people who don't know how to love, and have a hard time doing so? 
Also, this has great representation. All the girls are openly queer latinas, they have been for at least two generations, and it's not even an issue. Along with Du Maurier and Octavia Butler, I look forward to reading more from McLemore 
4) Frankenstein by Mary Shelley
I thought I liked Frankenstein when I first read it, then I also listened to the History Chick's episodes on Mary Shelley and her mother, Mary Wollstonecraft, and I think I've developed a sort of nerdy girl crush on both of them. Yes, their lives were full of angst, suffering, and injustice, BUT at least we got Frankenstein, the first science fiction novel. Yup, you can thank Shelley for giving birth to science fiction, so can anyone please make a good adaptation of Frankenstein where we establish a) Frankenstein is the doctor who creates the monster b) the monster has no name c) the monster is not green d) there is no Igor e) there is no "it's alive" line or moment and f) we have no idea how Frankenstein made the monster. 
Sorry, not sorry for that rant. Although, I was surprised to find out that none of those stereotypes were in the original book, it was a welcomed surprise. The book is deeper than what pop culture has made it out to be. Shelley is exploring what it means to create life, to be alive, and what happens when an individual is given that power. Frankenstein is given god-like powers, but he is only human. Meanwhile, it asks the question of who the real monster; Frankenstein or his monster? Should he even be considered a monster? I don't know, but I've had fun going back and forth in the last year. 
3) Make Your Home Among Strangers by Jennine Capo Crucet
To be very honest, I'm surprised that this made it so high up on the list because when I first read it, I was annoyed by some of the characters. However, since reading it in September, it has stayed with me, and it's a story I keep going back to in my mind from time to time. She captures the Miami I know so well, and it was refreshing for once to see an honest depiction of it instead of the glitzy and glamourous sunny beaches people usually see in movies and shows (like all those crime shows and movies). I also like it because it covers a more recent look at Cuban-American history by writing about an Elian like case, which is also refreshing because a lot of books about Cubans or by Cubans deal a lot with some sort of longing, a nostalgia for a past that no longer exists.
2) Rebecca by Daphne DuMaurier
If you've seen my review of this book, then you know why it's my current obsession. DuMaurier is a genius!  It's spooky, it has damsels in distress, mysteries, deaths, and rich older men. And believe it or not she's taking down the patriarchy with this 1938 gothic novel. Not just taking it down but showing the world the double standards placed on women and men. It's all kind of subtle which I love, because in real life you have to learn how to look and how to figure out the truth of things. Anyway, if it looks like I'm not saying much it's because I'm afraid of spoiling some very juicy things
1) Kindred by Octavia Butler
When I look back on the books that I read in 2018, this is the first one that popped in mind. It's one of those stories that has stayed with me for a long time after. Something about Dana's journey into the past (literarlly) was equally heartbreaking and fascinating to me. If I learned anything, it's that we humans tend to romanticize the past, as awfully horrendous it may have been. That's why we have Jack fall in love with Rose on a sinking ship and die a sad cold death. However, in Kindred Butler forces us to reexamine how we look at our pasts and histories, because the truth is, that some things just shouldn't be romanticized. They don't deserve excuses. They were bad, and anything countering that lessens the ugliness. It was bad, period.
Follow Me On: Instagram | Goodreads