TITLE: Honor Girl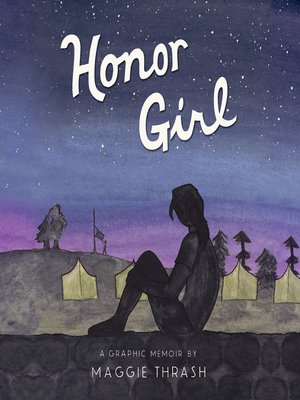 AUTHOR: Maggie Thrash
ONE SENTENCE SUMMARY: When 15 year old Maggie goes to an all girls camp like she does every year she didn't expect to get a crush on a camp counselor, especially on a girl.
GENRE: Graphic Novel | LGBTQ+ | Memoir
RATING: 4/5
This is a graphic memoir about a girl coming out and realizing she has a crush on a camp counselor older than her. Yes, realizing she's gay is a major part of the book, but it's also about the excitement, disappointments, nerves, and in this case the confusion that comes with first crushes. . My favorites moments  were the times she wasn't sure of herself or what she should do, but only because it's something I think everyone has gone through. I also like that she takes time to think about the repercussions of liking a girl, like the backlash they might get from it because that's still a very present problem for people who are not ready to come out. Nowadays, there's a lot of representation and stories about good coming out stories, but that hasn't always been the case. However, it's also nice that she doesn't truly try to hide her feelings from herself and just accepts her attraction to Erin.
I thoroughly enjoyed the story, but I did not love the art style. I don't know if it was done on purpose, or if Thrash wanted to do it all on her own and didn't want to have anyone, but the art style is simplistic. It's kinda messy and not in a funny ironic way like in Hyperbole and Half by Allie Brosh.
TITLE: Lumberjanes

AUTHOR: Noelle Stevenson
ILLUSTRATORS: Grace Ellis, Faith Hicks, Brooke A. Allen, Shannon Watters, Kat Leyh, Carolyn Nowak
ONE SENTENCE SUMMARY: A group of girls in summer camp encounter strange events.
VOLUME: 1, Beware the Kitten Holy
GENRE: Graphic Novel |
RATING: 3/5
The first volume in this comic series gave me Paper Girls and Gravity Falls vibes, but unlike the comic and show it doesn't seem to have much plot development. Right now as it stands, I don't see how all these strange events are related to each other. I imagine that the next couple of volumes will continue to explore these strange events, but if I can't see the thread that brings it all together, I will lose interest very soon.
The main characters all seem to have their unique personalities, but none of which I was a fan of. In fact, the only character I actually liked was the camp counselor. Maybe it's because I'm growing older but I have a deep appreciation for adult figures who are trying their best to do the right thing. Too bad she doesn't form part of the core group.
As for the art, I thought it was good solid work. I like that some scenes don't require any text to figure out what is happening in the pages.
Follow Me On: Instagram | Goodreads